Maryanne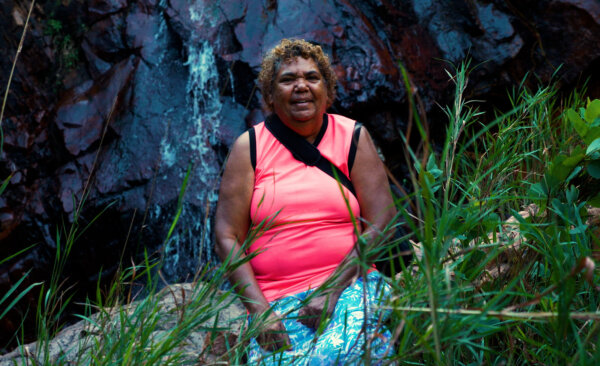 I come from the Kimberley, on a station. When I was 11 years old, we moved to Kunnunurra, and I lived here all my life.
I'm 55. I'm a photographer. I picked it up later on in my life. I sell water bottles, pictures, bags, clothing prints.
At TAFE I'm doing a business course, learning computers and getting to know what I can do with my own business, which is just fantastic. My dream come true would be to open a shop, sell photos and everything I create - bags, shirts, fashionable stuff, and hands on learning from me.
Landscape photography for me is like my walk in the Kimberley. I feel like I'm in another world, like it probably takes me back forty thousand years. It's like my people calling me, "Record it, record it", you know. And I believe the best way to preserve our culture, I'm doing it through photography.
Some of these places here, they're touristy sites, but they don't see it – the really true story of the Kimberley, which is always side-tracked, I believe. And that sort of thing, I like to show people the real deal you know.
Most of my photos are about water, because in the indigenous life, water is important. It means survival. Molly Springs is a local waterfall. It's a place where it's been there for years. It's always  been there for my people. And when you go in there, it's like you're entering a gate to the unknown. And to me, I consider that plain water as spirituality. That's why in my photos, I just see heaven because God created it.
In my spare time, I do witnessing in church, and I use my pictures to help people in prison, to engage people into a better lifestyle I reckon. From the bible, I put scriptures in my photos. One of the flowers that have a got a scripture on it, that bright morning star in Revelation, it explains when the sun rises, the flowers open up like they're really saying, "Hello God".
I had a breakdown and I've been heavily medicated, and you know what, photography has taken over my life, just saying. And it's become a medicine. I want to teach kids photography, especially kids who are struggling. Give them an opportunity. They could step into something that might change their life.
Photography brings excitement every day.  I don't wanna miss out on that capture of that picture, the sunrise, sunset, yeah it needs to be captured!