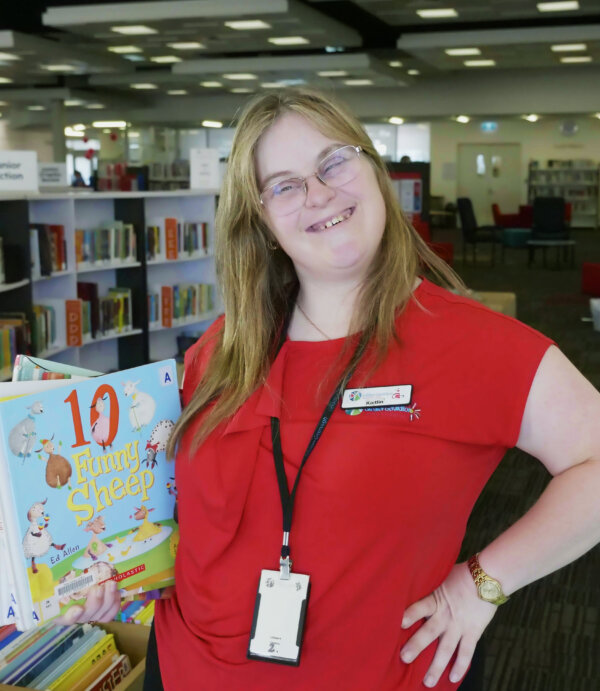 I'm Kaitlin and I work at the Geraldton Regional Library. I've been here for 15 years, and it's different every day.
It's awesome to work here with books, cause it's got all different genres. And I'm a big reader and I love getting out lots of books every single week.
I love working at the front desk cause it's fun, just meeting new people and helping them find what they want. We check out the books so people can take them out, and afterwards they bring them back and we scan the book back in and put them on the trolley to be shelved.
I like shelving, cause I put all the books away into the right alphabetical order and make it nice and neat and tidy, so people can see where the books are, and they can find them.
I also do book displays in the junior section. I get told what the theme is, and I go through and find books that go with the theme. For example, we do like Saint Patrick's Day or Australia Day, Christmas or Easter.
With the display, it's quite fun for the kids so they can learn what the theme is and sometimes we have a big one, which is like an author that comes in and they get to read out their books.
I've been reading since I was little. I like all different kinds of stories. I like reading classic books like Charles Dickens or Jane Austen, books that are out of my comfort zone. And I like mixing it up a bit with magical worlds and fantasy worlds.
I love reading a lot. It grows my mind. That's how I started to get into writing.
I usually like to write poems. I like writing cause its relaxing and time just disappears. I can imagine myself being in a book.
In the future, I would like to do some more training. I would like to work with computers, cause I have good IT skills.
I would like to work at the front desk more and do a bit of customer service out there.  And I would like to help people get books out by using the computer.
The library runs the Randolph Stow Writing Festival and The Big Sky Festival and I'd like to be involved in that, to get to know the authors and also help out. I have a creative mind and I would like to use that.
The library is a really friendly place, and it welcomes new members. I like encouraging people to become members because you can check out all the latest books and magazines and explore all different ideas. And that's what I do as well.