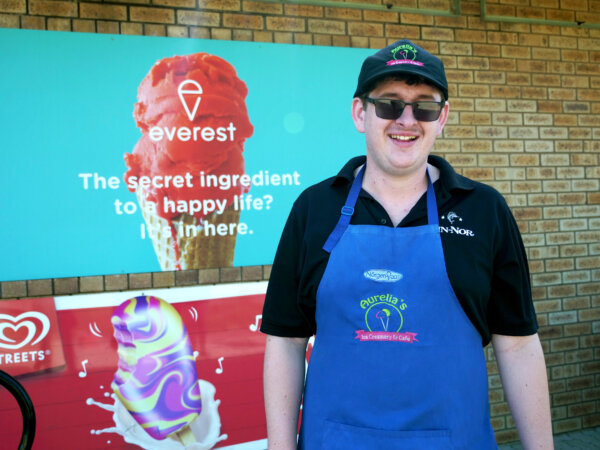 I'm Josh Bell.  I'm 24 and I have many different jobs going on all throughout the town of Esperance. I'm kind, caring, compassionate, always onto my jobs, and I bring laughter and happiness to the workplace. I also have autism and Cerebral Palsy.
I started working around 15 and these days I've got six part time jobs.
Aurelias is an ice-cream shop and café . It has more than 20 different flavours of ice cream, and on a hot day you see lines of people out the door.  I stack the fridges and sort papers and sometimes serve the customers. I take orders and money and give them change, cash or eftpos depending on what they use. I've been there 3 years and you get to know  the regulars, and after a while you know what they want.  I'm friendly and give helpful advice.  Good social skills are essential for a very happy business environment.
At Woolworths I work in the bakery.  I put bakery items that are already cooked into containers and put them on the shelves. There's a big variety. Sometimes customers ask advice.  I recommend the jam and cream donuts, and cheese and chive scrolls, and the dreamy choc cookies. It's normally a bit of a crowded place. I like to make peoples day a little bit carefree and happier. When my boss has an off day I always get her a large, iced coffee and she brightens up.
I've just got a new job at the  museum village café – one day a week. I work in the kitchen, serve customers and I'm learning how to make milkshakes. I got the job through a job agency. I had to update my resume and then go to the café and introduce myself and talk about my experience and what I like to do.
I also work now and then for the Esperance Shire, delivering posters about upcoming plays and musicals to shops around town. A mate of mine drops me at one end of town and then meets at the other end. Most shops are really easy going and say yes. Sometimes they ask me to put the posters up.
Occasionally, I work as an usher for live shows at the Civic Centre theatre. I help people sign in with the COVID app help, point out where they can get a drink and show them to their seats.
I have a family friend, Devin, who asked for my help, and for the last few years I've been working doing the shredding part of his business, Devin's Handy Office Help.
In Esperance everyone knows everyone, and I'm a popular man cos I pop up in different places at different times.
I have a lot of energy The jobs I'm doing are awesome and they keep me happy and occupied.