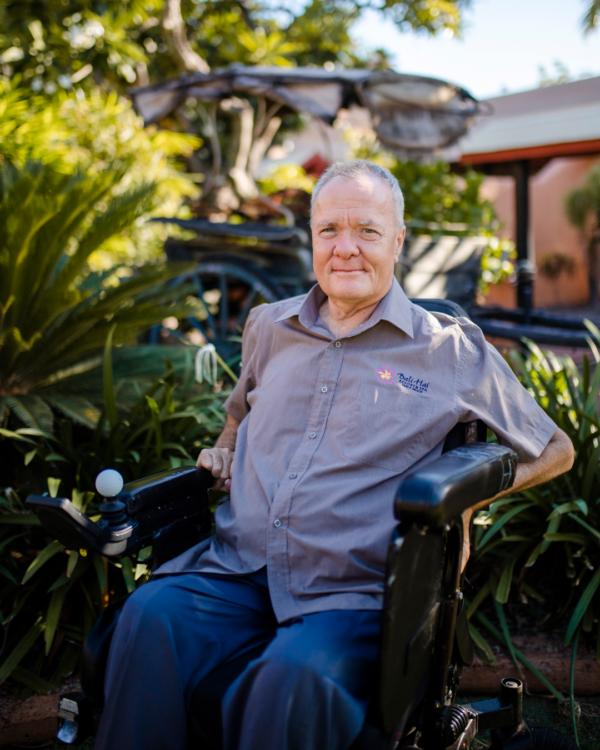 I'm Andy Guidera, the owner of Bali Hai Resort and Spa, Cable Beach in Broome.
I moved to Broome in 1996 because of the ideal weather, probably the best weather in Australia and the world. I wasn't really planning to get into tourism. I was looking to buy a house. Then the opportunity presented itself and I decided to buy a commercial tourism block and develop it slowly over the next 16 years.
Creating the Bali theme at the resort created a bit of a visual difference. Bali was one of my regular holiday destinations. I liked the indoor outdoor design of the architecture. They have courtyards where they spend a lot of their time outdoors. So, I kind of like that lifestyle.  Twenty years down the track, the gardens are beautiful, frangipani trees, palm trees. That's what people like the most. A lot of people comment that it's just like Bali, in Western Australia.
The resort is self-contained, four star. Each unit's very separated and very private with a large courtyard area. I built it in four stages, completed the first two stages with all the accommodation by 2002, and then advanced some funding to create the Bali Hai Spa, and that was completed four years later, 2006.
The Global Financial Crisis came along in 2010 and the next nine years were terrible. I was very lucky in that I'd stuck with a few earlier investments. I could sell out some shares to cover the requirements of the bank, which I always did.
And then in 2012, one brother and a good friend from Adelaide, helped me fund and create the Bali Hai Café, opened in 2014 and I leased that out to a couple that do a fantastic job.
It was sixteen years of stress. It wasn't without a lot of struggle. I put everything into it. I was ambitious. Once I start something, I want to finish it. I don't feel special about it or anything, I just feel that that was my job at the time, and I did it.  I've dedicated twenty three years to the creation of the resort and spa and café.
It's been really important just working for myself, being able to call the shots. My role now, is meeting with the management regularly, reporting to banks, accountants, keeping the peace, and in a lot of cases now it's responding to regular guests, cos you get to know them very well over the years and a lot of them like to catch up. Most people come here, and they love it.