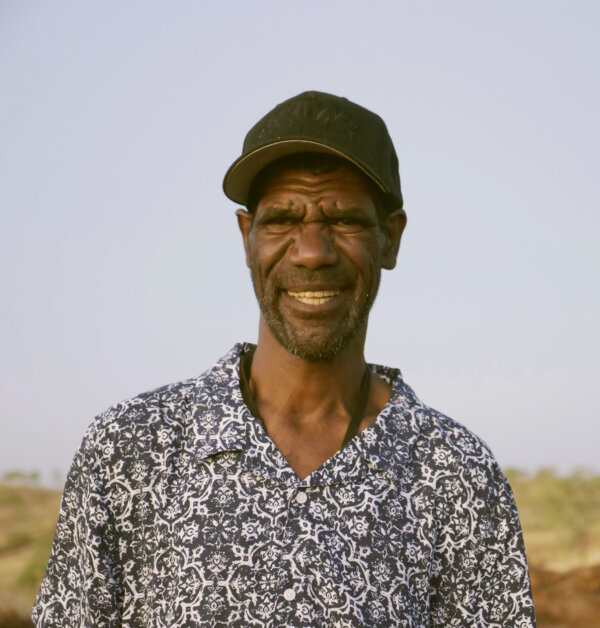 I'm Christopher and I live in Hall's Creek. This is river country round here. This is the second town, the old town is way back down that away where my country is. But I got family from right around here as well.
My grandfather grew me up from a little age at a station. I did fencing, helped mind cattle at the yards. I trained horses from the rodeo to be quiet, for people to ride or do a cattle draft.
Now I work at the Kimberley Hotel, at the kitchen. I wash the dishes and all that sort of thing. Aah, it gets proper busy. It's always been fast in the kitchen, it's like straight in from nine o'clock. It's like six hours.
Really, I learnt how to be patient and how to keep up with all the chefs. And when the boss lets me know "Aah you've got a shift to come into, we need you to come in", I'll be there straightaway, and I'll get down to the business of really doing it because I really love coming to work. I wanna go there, I wanna do it. I wanna finish it up. And even the chefs, they turn around telling me: "C'mon, hurry up. Quickly, quickly. Do this, this, that, that". Aah no worries, mate, no worries! Doing about two things there and three things and then racing back, and then coming back again and aah well they show me how to really do kitchen hand things. It's like more faster than anybody, that like, I can be honest, it's like really good just coming to work. It's okay, c'mon, we're gonna have a fun day now!
The best part of the job, its seeing the chefs saying "good morning" every morning and having the opportunity to have really good bond with my work chefs.
The bosses say that they really like my work, how I do things here, but I don't really like to boast about it, but it's really good to have the opportunity to work with all these chefs. I really love all them chefs, they really love doing what they do.
Later on, I'd like to know more about the gardening and go and join up with the gardening fellow here. Like not really take over this job. I wanna have the opportunity to learn other things from gardening business and all that.
The job, it's like you know really important to me because I really wanna finish up the rest of my licence, and I'm saving for a car. That'll be the thing that I'm just really doing it for.
I wanna do this because I wanna get down to the business of work and you know, I don't care what anybody say, anything about anything, but I'm there just to do them dishes, do the work and encourage the chefs that I'm there for them.
UPDATE: About 9 months after filming, Christopher resigned to care for his elderly mother. Some months later, he began part time work – gardening by day and assisting Aboriginal people with safe passage on the Jungarni Juitya Night patrol.