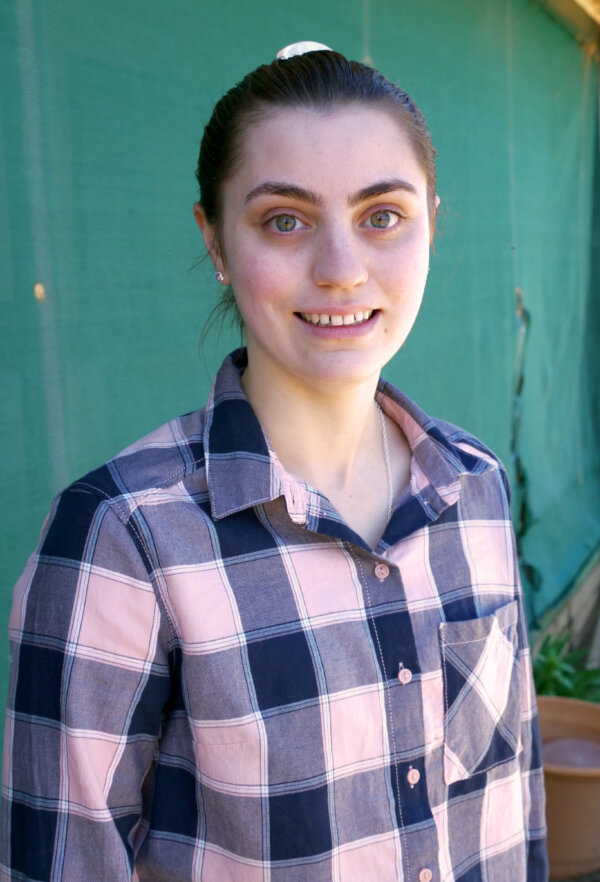 I am the author and illustrator of the Bush Tales series. I am from Southern Cross.
I love feeding and hanging out with the animals on my farm. They are also the inspiration for my Bush Tales stories. Its about animal heroes who are having adventures.
There are twenty two characters and I'm in the process of getting them all published. I've got my first book printed 'The Bush Tale of Timmy Lamb'. I have my own website and people can buy my books online.
I've grown up with animals all my life. I have sheep, five old pigs, one chook left, birds, dogs and a cat. I love them all very much. They are cute and adorable. I just wanna draw them. I like to watch them, what they do. My imagination opens up a whole world.  I see my characters running around. I see how they live, the clothes they wear, and what they do.
Marley Dog is a happy and playful dog. He likes to run around the farm. His story is about him getting lost and finding his way back home.
Timmy the Lamb is based on my pet sheep, Timmy II, who I've rescued and raised. In my story, Timmy embarks on a great adventure where he discovers humans.
Sometimes we have crows and ducks visiting. I remember me and my Mum saw a duck fly into our sheep yard. That inspired me to create Mr Duck, who protects the sheep, playing the banjo to them.
I volunteer at the Parnana Pikurtu Wildlife Sanctuary. It's an animal rescue place where they get loved and cared for and nursed back to health. I bottle feed the joeys, chop vegetables for the birds, feed the chickens and let them run around, and I play with the sheep and goats who have their own yard near the old shearing shed. I give them pats and tell them how good they are.
In my story, Diamond Goat is one of my favourite characters. She's mischievous and likes to play pranks on the animals that live on her farm. And Miss Hen is a teacher who likes to educate all the young animals.
At the moment, I'm exploring ways to animate my characters, and bring them into virtual reality.  I've got plans for lots more stories, and maybe one day, my characters will become animated TV shows.
I love being an author and an illustrator, it's what I dreamed of. I'm gonna keep on writing stories and I want children to love them and get the joy from them.