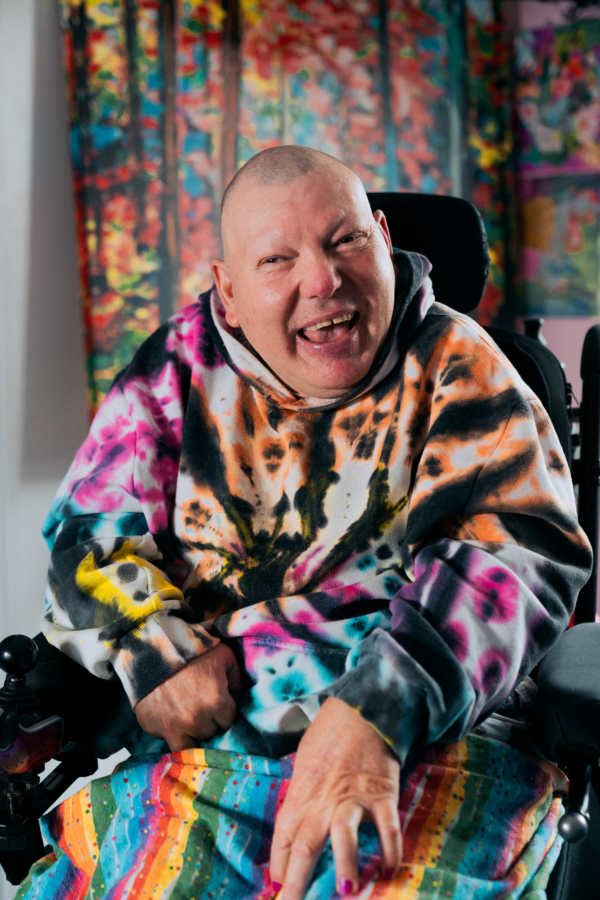 I'm Robert. I'm a funny guy, I like joking around. I live in my own house. It's especially built for me.
It's so roomy. It's easy to get around the house. I wanted to get out of that hole I used to live in. All my sisters helped me achieve this house. My life is the way I want it now. Life's more fun.
I'm a thrill seeker. I've climbed the QV1 building. I abseiled, I've been on boat cruises, I've done a lot of traveling.
I like going out. On a nice day, I ride the bike up and down the street. I have a good neighbourhood. Good neighbours.
I sell the Big Issue. I like a job outside, fresh air and people coming by. The same people come every week and buy my paper. I like to keep things friendly and make their day.
I love my house. There's so much freedom, I can do my own thing. I decorated my house and made it more colourful. I like big pictures. I colour in with textas. I get people to draw for me, my ideas. I'm full of ideas. My pictures is how I see the whole world, full of colour, full of energy. It's a version of me!
I like a happy house. When people come to see me, they walk in here: "wow!" Their eyes pop out of their head.
I like brightness, coloured t-shirts, tops, dresses. They're more comfortable. I don't care what people think. I just love colour. I'm just me! Too many serious people in the world, they need to get out of their box and spread their wings. I'm a free spirit, yeah!
I like the door shut. I value my own space. In the summertime, I walk around naked! I like to be free. Too much clothes on me, it makes me too hot.
I'm very proud of myself and my house, and the way I dress, and the way I do things. I'm happy about my decisions.