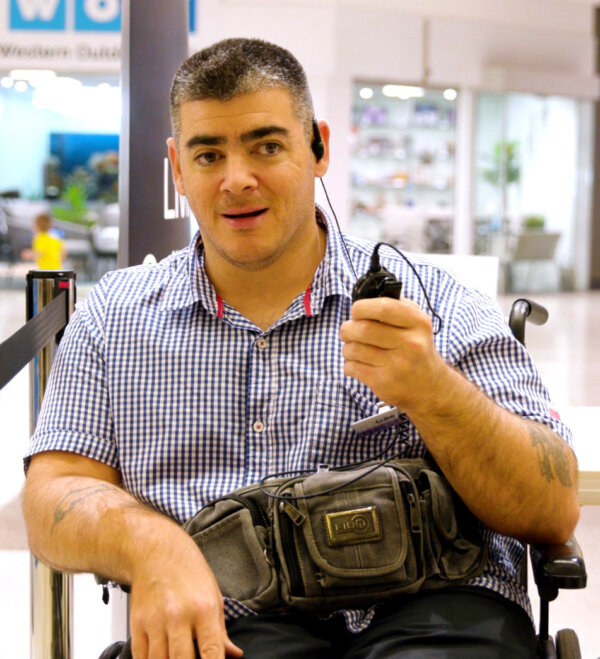 I live in Karratha and work at Kmart. I'm a door greeter at Kmart, and I work within security as well. I sit right up the front, I'm the first person people see at Kmart when they come in.
My job is to welcome people and make sure they're happy with their experience at Kmart. And I also love to make sure that people are safe. I make sure that they sanitize their hands when they go through and also, I remind them to sign their name at the door and use the COVID app with the QR code. It can get extremely busy.
When people leave the store, I check their receipts to make sure that they have paid. Most people do the right thing, but sometimes people forget and that's why my job is so important, to make sure that people do the right thing.
If the alarm goes off when people are walking out, I go "excuse me, can I have a look at your receipt?" And if they don't have a receipt, I send them back to the cashier to ask for another receipt. I have to be on the ball, and I'm always firm but fair, while still keeping calm and relaxed.  It takes a great deal of self-awareness to keep that balance within. And I've learnt how to deal with all kinds of people.
I've been working there for 11 years now. I'd love to be working extra days at Kmart. Then when I do have a family, as a father I can earn just a little bit more money so I can provide for my children.
In the future, I'd love to be able to study to get my security licence, so that I can become an actual security guard.
I'm extremely fit, and every week I build up my strength and do weights at the gym, and I also regularly train in boxing and stick fighting. Keeping fit and building those skills helps me to stay focussed and calm which is very important for my job, and of course the future work that I want to do within security.
I like working and I like my job because I love to communicate with people and keep people safe.