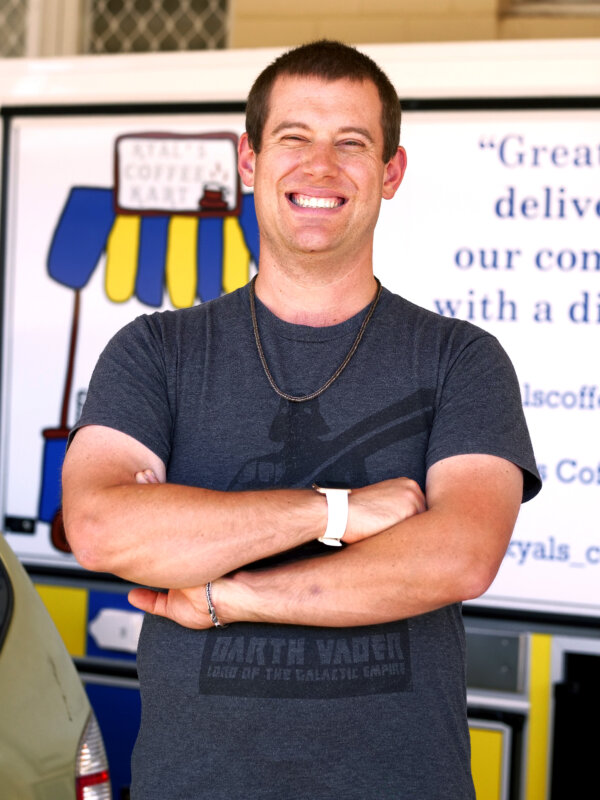 I'm Kyal. I live on my own. I've been living here  since my 20th birthday.
I'm now 32 and I run my own business.
Most of the time I'm out of the house. I like going for bike rides, going for long walks,
going to the gym to keep active.
When I've had a busy day, I like to come home and just sit and relax and just sit on the couch and watch TV or do a diamond dot.
I try and make sure that the house is clean,
shopping's done, I got food in the fridge.
I have three fish, Jim, Barry and Susan.
They're easy to look after and clean the tank.
My business is Kyal's Coffee Cart.
I wanted to own my own business when I was 13 years old.
Now I've done it. It feels like a great achievement.
Kyal's Coffee Cart goes out and does schools and events and parks.
I have a great team. Lily, Tony and Charlotte.
In the morning there's a lot of prep to do before we get to the event.
My coffee is really good. All the customers love the taste of my beans that I use.
I have weekly school clients in the mornings. Sometimes I would do three bookings on a day, so it depends on the day. Yeah, so I do get busy, but not busy enough for me to get a big headache.
I work from home and do all the bookings for my business and whatever else needs to be done, like ordering cups and coffee and milk.
It's essential to have this space cause if I didn't have this space, I wouldn't be able to run my business that well.
I get energised around people. I love hosting all my friends at my house. I have parties and be the host of different parties. I love having people around my house.
The most important thing about having my own house is to be independent. I feel proud of what I've achieved in life. My life has a great balance with my work, hanging out with my friends and just having that time to myself that I need. Everything's running the way that I want it.